the one good thing about having my flight back to london cancelled (don't ask...) is that i got to play fashion police during the golden globes red carpet pre-show.
no major surprises in terms of what people were wearing...lots of white, lots of marchesa, lots of gratuitous draping. however, there were a couple of looks that really stood out for me, with my top five below:


1. angelina jolie in st. john: even though i personally think dove grey is a fantastic colour to wear, and even though it is one of the ubiquitous colours of this season, it still seems to get a perpetually bad rep - and in most cases, it's perfectly justified, as the wrong shade of grey does tend to wash out even the most glowing of complexions. angelina gets it perfectly right here, and has given me faith that, despite all the bad press it's been getting, the right grey IS really flattering. the dress itself is nothing special, but its colour, paired really well with gold jewellery, was for me one of the highlights of the night
2. jada pinkett smith in...??: another fantastic example of how colour can totally make an outfit. the shade of salmon pink is so unexpected for this time of year, and just works so well with jada's complexion - her stylist clearly knows her stuff. again, in any other colour this dress would be mediocre, but the colour really makes it - and, yet again, am loving the gold vine necklace.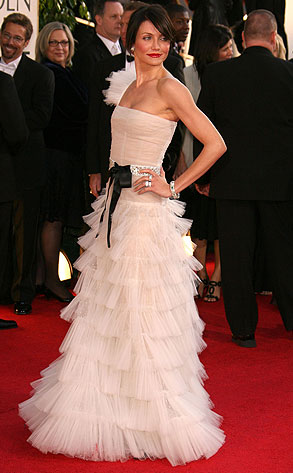 3. cameron diaz in what appears to be chanel?: on anyone else this dress would border on the ridiculous, but cameron has the confidence and joie de vivre to pull it off while still looking like class incarnate. it's quite unusual to see her in something long, so this is a nice departure for her - and a fantastic choice for the first big night out after a breakup when she knows she's going to see her ex. bet he's absolutely DYING right now. love, love, love it.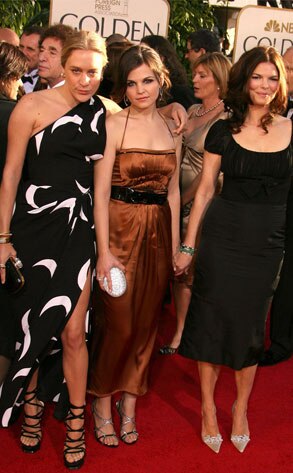 4. chloe sevigny in ysl: ok, ignore the fact that she looks like a caveman in this picture and hear me out...now, i may be a bit biased because chloe is my personal style icon and i would probably continue to rave about her even if she turned up wearing cowboy boots and a peasant skirt, but think about it: how often do you see prints on the red carpet? i probably would have picked different shoes, but that's besides the point - she's daring to be different in an age where stylists take all of the risks and fun out of red carpet dressing - and for that, i salute her.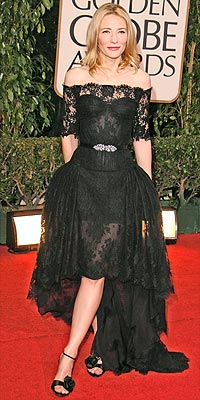 5. cate blanchett in alexander mcqueen: a perfect example of how to stand out in a little black dress. this gothic lace gown looks stunning against cate's fair hair and skin, and i love the exaggerated hips - so directional, dahling!
honourable mention goes to america ferrera for wearing brian reyes when she must have been inundated with dresses from more 'established' designers - even though it is not my taste at all, is great that she's working with emerging talent.

try as i might, i couldn't find anyone who looked particularly shameful - with the exception of vanessa williams' faux-fro and jennifer love hewett's muddy poo coloured merangue, everyone else was quite non-offensive. which is cause for concern in itself, if you ask me...